Painted Yin Yang Necklace Pendant
yin-yang-necklace-painted
$19.00

Painted Yin Yang Necklace Pendant
yin-yang-necklace-painted
$19.00
Product Details
---
These Yin Yang Symbol Pendants feature a sterling silver back and edges, which means that it will not tarnish the way that some other pendants might. The middle of this pendant features a painted Yin Yang Symbol in the middle of a double Eight Leaf Lotus Blossom. The Yin Yang symbol originated in China, where the word Yin means "dark," and the word Yang means "bright." Together they represent two different "energies" that are everywhere throughout the universe. Note that neither energy is purely white nor purely black; both energies have a little of the opposite energy in them.
This theory of two energies is the basis for understanding many of the concepts in Chinese spiritual and natural philosophies. For instance, they represent Heaven and Earth, or Man and Woman, or God and Mankind. These two energies always exist in balance with one another, never able to exist without some of the opposite within itself. These Yin Yang pendants are a little bigger than some of our other pendants. They measure 1.25 Inches in diametre.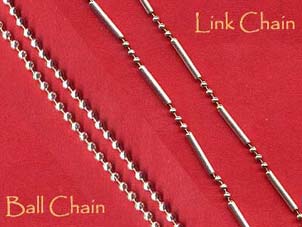 You can also purchase an optional
Thai Silver Necklace Chain
with this pendant if you would like. Just choose either the Ball Chain or the Link Chain in the drop down menu above (right above the Add To Basket button, where it says "Pick An Optional Chain"). If you don't want a chain, then just leave it as saying Select One.
The Ball Chain Necklace (left) is 17 Inches Long and the Link Chain Necklace (Right) Is 18 Inches Long. Each ball or link is approximately 2 milliliters in diameter.
We think you are going to like these chains as they are made out of genuine Thai silver and really make our pendants / amulets stand out. They add a touch of class to our pieces.