Silver Om Pendant, Painted
silver-om-pendant
$29.95

Silver Om Pendant, Painted
silver-om-pendant
$29.95
Product Details
---
This Om Pendant features a sterling silver back and edges, which means that it will not tarnish the way that some other pendants might. The middle of this pendant features a painted Om Sign in the middle of a double Eight Leaf Lotus Blossom. While normally written in English as "Om," it is more correctly spelled as "Aum." It is considered a sacred symbol in the Sanskrit and Hindu languages, and this word is used before every prayer or ritual mantra. In Hindu creation theory, the universe was void until the sacred sound of Aum self-manifested, and from the energy of its vibrations the whole universe came forth. The three letters in the word Aum (namely "a", "u", and "m") symbolize the creation, existence and destruction of the universe. Or they are also thought to represent the Holy Trinity of Hinduism, Lords Brahma, Vishnu and Shiva.
These Om Symbol Pendants are a little bigger than some of our other pendants. They measure 1.25 Inches in diametre, and you can also turn it into an earring.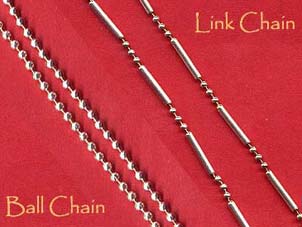 You can also purchase an optional
Thai Silver Necklace Chain
with this pendant if you would like. Just choose either the Ball Chain or the Link Chain in the drop down menu above (right above the Add To Basket button, where it says "Pick An Optional Chain"). If you don't want a chain, then just leave it as saying Select One.
The Ball Chain Necklace (left) is 17 Inches Long and the Link Chain Necklace (Right) Is 18 Inches Long. Each ball or link is approximately 2 milliliters in diameter.
We think you are going to like these chains as they are made out of genuine Thai silver and really make our pendants / amulets stand out. They add a touch of class to our pieces.